Imagine that you do not like anymore your tattoo?
What can you do? Keeping it and being sad about it or going for an expensive erasing technique that may work or not? There is another way: using CALLIGRAPHY.
You can revive your old design by giving it a new meaning that makes more sense to you. The calligraphy work can also change the appearance of the initial tattoo.
In fact, calligraphic designs offer this unique possibility to reshape your tattoo. You keep the original lines and adding just a few more at the right place should be enough to completely transform it. The new tattoo will not necessarily be much bigger and the harmony of the shapes can easily be maintained.
Using the old design to make a new one.
I can give you an example.
Few years ago, a customer ordered to me a tattoo design with a name in Arabic calligraphy. Later, she contacted me because she did not want to have that name tattooed on her skin anymore. She would try first to transform the tattoo rather than go for an expensive erasing technique. Therefore, we started thinking about which meaning would make sense for her. She gave me the names of her 2 kids to check first if that was an option.
After the analysis of the original design, the best solution that came out was to use Latin letters instead of Arabic. On this design, there was a possibility to minimize the adds-on so the new tattoo would not get much bigger. Also, the names were Italian and I found a better way to integrate their name with this alphabet.  She was so happy to hear that this option was feasible. She ordered the tattoo design and the result was magic.
First, you could not see anymore the original design. Your eyes would focus on the two names and if you had not seen the first tattoo before, you would probably not imagine that it was an Arabic calligraphy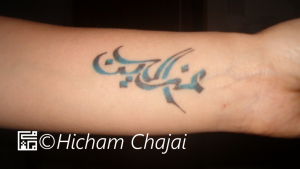 Before transformation – Azzedine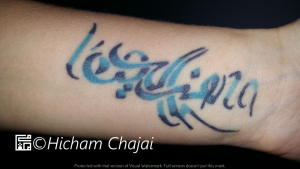 After transformation – Léo Chiara
If you want to change a tattoo, think about CALLIGRAPHY.